Wire Distributors | What Malin Can Do For You
Why You Should Buy From Wire Distributors Like Malin Co.
When you need high-quality wire, you need wholesale wire distributors that you can rely on. Malin Company is a leader in wholesale wire distribution. We are known for providing a full range of metals including stainless steel wire, copper wire, brass wire, Inconel wire, and Monel wire. Malin stands out from the rest because of our competitive bulk wire prices compared to other wire distributors and manufacturers.
But what can our wire distributors do for you? When you need durable wholesale wire like safety lock wire for your industrial machines, you want a distributor that you can depend on. We supply wire that's used and trusted in industries like aerospace, medical, and automotive.
What Malin Co. Distributes
Safety Lock Wire From Wire Distributors Near Me
Safety lock wire is an effective tool used to fasten and secure bolts, nuts, and other fasteners. Also known as a positive locking device, safety lock wire prevents fasteners from loosening over time or falling off their machine. To secure each fastener, the safety lock wire is threaded through the fastener hole and then is twisted two additional times throughout the fastener to create a secure hold.
As a leader in high-quality wire distributors, Malin understands the demand and importance of durable wire. Safety lock wire must ensure security in all high-stress applications and withstand high temperatures and extreme pressure. We provide safety lock wire that can endure the harshest environments in industries like aerospace, oil, and gas. If you want to improve safety within your industrial machines, let Malin provide heavy-duty safety lock wire.
Industrial Stainless Steel Wire | Stainless Steel Wire Distributors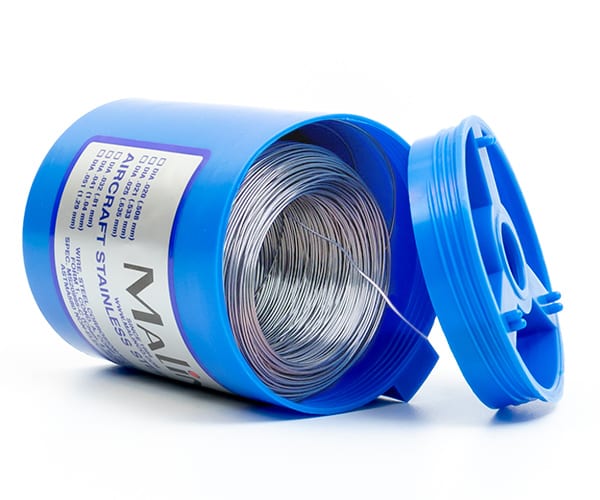 Since 1884, Malin Co. has provided high-quality stainless steel wire. Stainless steel wire supplies essential products to many industries due to its versatility. It is also used extensively in the medical field for its ability to meet demanding requirements at a low cost. Common stainless steel wire applications include:
Pins
Lashing
Forming wire
Filters
Gaskets
Elevators
Safety wire
Shaped and flat wire
Jewelry
Electrical line wire
Craft wire
As leading steel wire distributors, we provide a full range of straightened and cut wire products. Our straightened and cut wire is produced from coils that our machinery forms into exact specifications. Straight cut wire is ideal when you need uniform and consistent straight lengths. As coil wire distributors, we can cut and shape stainless steel wire and cable to your application.
The Best Wire Supply Around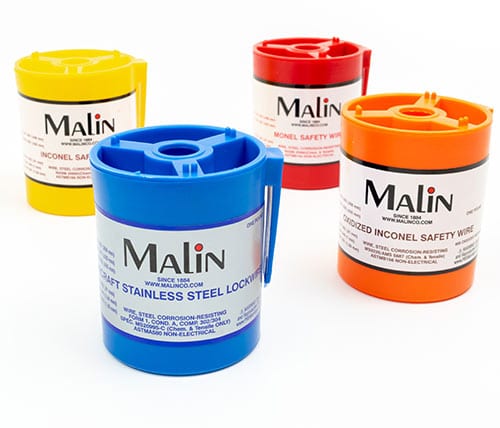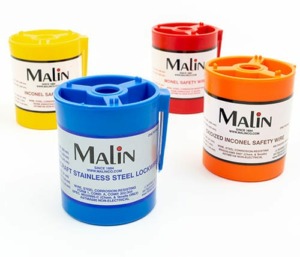 Even though we are known as one of the top stainless steel wire producers, we carry a full line of additional alloys and materials to meet all your wire supply needs. Below are the wires we proudly supply:
Stainless Steel Wire
Brush Wire
Aircraft Stainless Steel Wire
Soft Tinned Copper Wire
Aluminum Wire
Copper Wire
Safety Lock Wire
Brass Wire
Annealed Brass Wire
Craft Wire
Wire Forming Services From Malin Co.
Once you've decided Malin Co. can supply the wholesale wire your industry needs, it's time to consider what wire services you need as well. As a leader of aerospace wire and cable distributors, one of the top-rated wire services we offer is wire forming. Wire forming is the process of custom shaping wire from wire spools. The customization method can include bending, cutting, and angle shaping. Our team of wire experts will help you determine what custom shape your business or project requires.
Once we've determined your customized wire shape, we will feed the custom tooling and wire into a machine that bends the wire around the tooling to shape the final product. There are endless wire shapes and configurations that can be designed by wire forming. Some of the most common products include wire-formed springs, linchpins, utility hooks, S hooks, wire displays, and wire baskets.
Why Choose Malin Co. | Coil Wire Distributors
One of the reasons we are a leader among other wire distributors is our ISO 9001:2015 certification. To be ISO certified, Malin Co. was evaluated based on quality management system development, management system documentation review, a pre-audit, an initial assessment, and clearance of non-conformances. All of these elements work to identify corrective actions and the elimination of non-conformances to the quality management standard.
Our ISO certification proves our dedication to providing quality products and services to all of our current and future customers. Our ISO certification, team skillset, and years of experience guarantee that we will provide you with the highest quality wire supply. Visit our website to receive a quote and learn more about our services.
Experience and Expertise
Malin has extensive experience in wire drawing, wire forming, and wire fabrication. The company has a team of experts with vast knowledge in wire manufacturing and distribution, ensuring that their products meet the highest quality standards. They have a deep understanding of the industry's trends and are continually improving their products and services to meet the changing demands of their customers.
Wide Range of Products
Malin Company offers a wide range of wire products, including stainless steel wire, aluminum wire, copper wire, and nickel wire, among others. They have an extensive inventory of wire products in different shapes and sizes, ensuring that their customers get the right product for their application. Whether you need wire for medical, aerospace, or industrial applications, Malin Company has the right product for you.
Customization
Malin understands that different customers have unique requirements when it comes to wire products. That's why they offer custom wire solutions to meet the specific needs of their customers. They have a team of experienced engineers who can design and manufacture custom wire products to meet your specifications. Whether you need a particular size, shape, or coating, Malin can deliver the wire product that meets your unique needs.
Quality Assurance
Quality is critical when it comes to wire products. Malin Company understands this, and that's why they have a comprehensive quality assurance program to ensure that their products meet the highest quality standards. They use state-of-the-art equipment and employ strict quality control measures at every stage of the wire manufacturing process. Malin Company is ISO 9001:2015 certified, ensuring that their products meet the highest quality standards.
Reliability
Malin is a reliable wire distributor that you can trust. They have an extensive network of suppliers and manufacturers, ensuring that their customers get their products on time. Malin Company has a robust logistics system that ensures that their products are delivered to their customers' doorstep on time. They also have a customer support team that is always available to assist their customers with any queries or concerns.
Competitive Pricing
Price is a critical factor when it comes to wire products. Malin understands this, and that's why they offer competitive pricing on all their products. They have a pricing system that is transparent and easy to understand, ensuring that their customers get value for their money. Malin's pricing is competitive, and they offer discounts on bulk purchases, making them an affordable wire distributor for both small and large businesses.
Environmental Sustainability
Malin is committed to environmental sustainability. They have a comprehensive sustainability program that ensures that their wire manufacturing and distribution processes are environmentally friendly. They use environmentally friendly materials and employ sustainable practices to minimize their impact on the environment. Malin Company's commitment to sustainability makes them a responsible wire distributor that you can trust.
Selecting a Wire Manufacturer and Distributor you can Trust
Choosing the right wire distributor is critical to the success of your business. Malin is a wire distributor that you can trust. They have extensive experience in the wire industry, a wide range of products, and a commitment to quality assurance, reliability, competitive pricing, and environmental sustainability. Malin is a responsible wire distributor that is committed to meeting the unique needs of their customers.
Stainless steel wire distributors play a crucial role in ensuring that businesses have access to high-quality stainless steel wire products. Choosing the right distributor is important as it can impact the quality of the products you receive, as well as your overall business operations. A reliable distributor should have a strong reputation for providing consistent and high-quality products, as well as excellent customer service. It's important to choose a distributor that has experience working with a variety of industries and can provide customized solutions to meet your specific needs. By partnering with a trusted stainless steel wire distributor, you can be confident in the quality of your products and focus on growing your business.