If it has to do with wire – Malin does it!
Click here to add your own text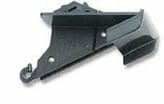 This new Downrigger Release rolls up and down the downrigger cable automatically. It goes down when a fishing line is attached and comes up after the fish strikes. There is no need to retrieve your downrigger weight after every strike. This saves wear and tear on both you and your equipment. They are made of U/V stabilized plastic and stainless steel.