Malin has been a leader in the fishing industry since 1884.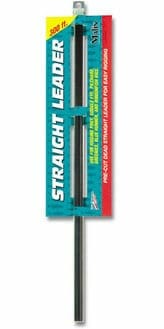 Malin Straight Leader is the absolute highest quality, straightest leader wire available for today's serious tournament anglers. Our Straight Leader has the properties that make it the perfect leader wire for live bait rigging and for use in conjunction with wind-on leaders. This wire is straightened using a special process that actually softens the wire very slightly making it the most kink resistant leader wire. The only exception is our new "BOA".
No-Kink. It is available in 25 lb. test through 110 lb. test and comes packaged in rigid clear plastic tubes. Malin Straight Leader is precut in 12, 24 and 36 inch lengths. Each tube contains 300 feet of leader material.
Malin Straight Leader is available in both the dark coffee color and the bright finishes. Other sizes and lengths are available upon request.