Malin Company was founded in 1884 and our wire manufacturing plant is located in Northeast Ohio. We have been a reliable resource for high-quality wire products for over a century. Over that time, Malin has been able to manufacture wire for a diverse range of applications and industries, and in each case, we have provided products that meet or exceed expectations.
We are ISO-certified and RoHS 3 certified. We specialize in the manufacture of wire in several different alloys and materials, and we also offer wire forming services. How do we define ourselves as a company? We consider ourselves to be all of the following:
 Save Big from a Wholesale Wire Company
Call 1-800-967-9697 to learn how you can get more wire for lower prices with a top wire company, Malin.
Copper Wire Manufacturers
Malin Company has been a copper wire manufacturing company for quite a long time, and through the duration of our time in the industry we have seen applications for copper wire evolve and expand. Unlike other copper wire manufacturing companies, our copper wire is of such a high quality that it can be used as breakaway wire or for industrial applications. Among the industries that use copper wire today are power generation, power transmission, electronics circuitry, and electrical equipment manufacturing.
Medical Wire Manufacturers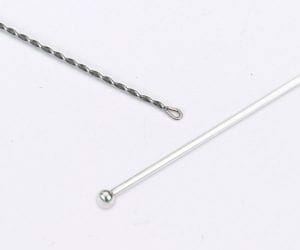 Few industries are more demanding in terms of meeting specifications than the medical industry, and rightly so. Surgical procedures and medical science are complicated enough. The minutiae of the tools being used should not be of any concern to the medical professionals using them. That is why our medical wire is of the absolute highest quality. Our medical wire is used for staples, catheters, spring guides, pacemaker leads, orthodontic fixtures, and more. We are able to form or draw wire to whatever specifications you need, and we will make sure it is 100% correct the first time.
Metal Spool Manufacturers
We specialize in the manufacture of metal spools and can provide packaging customized to your needs. Our spools can be purchased in quantities of 1 oz., 1/4lb., 5 lb., 10 lb., 25 lb., or in bulk. Our aluminum, brass, copper, Chromel, carbon (black, galvanized), Inconel, Monel, nickel, nickel silver, and stainless steel can all be spooled for your convenience.
Steel Wire Manufacturers
Although we work with a multitude of materials and alloys, stainless steel wire tends to be one of the most versatile and strong options. Primarily, our stainless steel wire is used for industrial applications. In addition to straightened, drawn, or formed stainless steel wire, we can also manufacture stainless steel cable. Our stainless steel wire is so reliable it has been approved for use in the aerospace industry and the oil and gas industry.
Cold Heading Wire Manufacturers
Cold heading wire means the wire forming process did not use any heat This means that cold headed wire is strengthened every time it is moved during the forming process, which increases its strength. Cold heading wire is actually stronger than screw machined parts.
Drawn Wire Manufacturers
Wire drawing is a process by which wire is processed through several die until it is drawn out to the specifications needed. We are able to manufacture drawn wire out of aluminum, brass, copper, stainless steel, and nickel alloys. We can reach diameters as low as .0016" and as high as .250".
Galvanized Wire Manufacturer
Galvanized steel means that the steel wire has been coated in a light layer of zinc. This coating helps prevent corrosion from exposure to water or the elements.
High Carbon Steel Wire Manufacturers
When we are asked for wire forming services, high carbon steel is often our recommendation in terms of material to use. High carbon steel is susceptible to heat, so it is very easy to work with in the forming processes we do at our plant.
High Carbon Steel Wire Manufacturers
When we are asked for wire forming services, high carbon steel is often our recommendation in terms of material to use. High carbon steel is susceptible to heat, so it is very easy to work with in the forming processes we do at our plant.
High Temperature Wire Manufacturers
For industries like aerospace, where our wire is of the utmost importance but where it also will be exposed to the most strenuous environment, Inconel wire is best. It can also be used for the oil and gas industry and industries that require saltwater applications. Inconel is an alloy consisting of nickel that contains chromium and iron. Although stainless steel is the strongest option for many applications, we use Inconel for any situation in which the wire will be exposed to high temperatures.
Nylon Coated Wire Manufacturers
Nylon coatings over steel wire are often called for, particularly in our manufacture of brushes. Then nylon coating is perfect for brushes that will be used for light cleaning with chemical solutions. Nylon can also be used to coat single strand wire for industrial applications.
Bending Wire Manufacturers
We offer a wide variety of metal forming services, including drawing and bending. When a customer has requested a wire bending service, we first learn as much as we can about what application this wire will be used for, and then we work with our customer to select the ideal material. We are then able to draw the wire per the customer's specifications.
Nickel Silver Wire Manufacturers
The name nickel silver is actually misleading. There is no silver in the alloy, which is often used for applications where 100% copper wire is not required. Nickel silver, sometimes also referred to as German Silver, has a bright and shiny appearance. Applications for this kind of wire are numerous and varied. It can be used for every-day items like ball pen tips or springs, but it is also quality enough to be used for surgical instruments. We are also able to manufacture industrial wire using this alloy.
Custom Wire Manufacturer
If you still have not seen what you are looking for, do not worry! After more than a century in the industry, we can talk to you about your specific project, determine what material would best meet your specifications, and create exactly what you need. Contact us to learn more!
Malin Company began in the late 19th century, when the world and the industries we serve were just beginning to get a little more complicated. Like the communities around us, we have grown and adjusted over the years, expanding our capabilities. We still hold the claim as being the top wire manufacturer for the fishing industry, but we now serve exponentially more industries, and we are proud to say that each industry we work with finds our wire products to be of the highest quality. You do not get to remain in business for over 100 years if you have poor quality products, poor customer service, or slow timetables. We know how to get the job done right the first time, and fast.