What is Lock Wire? Everything Worth Knowing about Lock Wire
The Purpose of Lockwire
What is Lock Wire? Lock wire is a crucial safety tool for ensuring mechanical stability. Bolts, screws, nuts, and other types of fasteners will gradually loosen over time, especially in applications that produce high levels of vibrations.
Applications like sports cars, aircraft turbine engines, and even weaponry can benefit greatly from the implementation of safety wire. Braking mechanisms, throttle systems, and even flight controls depend on lockwire to prevent serious mechanical failures and keep people safe, hence the name "safety wire."
Lock wire's central purpose is to prevent the loosening of nuts, bolts, and other fasteners. To wire lock nuts and bolts, you thread it through two or more fasteners, ensuring they remain as secure as possible. Safety wiring prevents the loosening of fasteners by counteracting it with more tightening. The common application method for the installation of safety wire involves twisting two strands of wire together with a "Double Twist" configuration.
However, it is important to avoid using safety tie wire for applications that involve excess chafing, tension, or fatigue outside of the wire's intended tightening function.
Lock Wire Installation Methods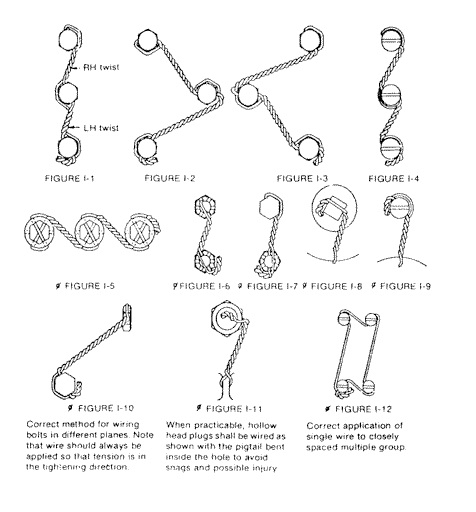 Performing safety wire installation involves choosing one of two methods: double-twist or single-wire.
For the double-twist application method, the diameter of the wire depends on the type of fasteners. Parts with hole diameters exceeding .045 inches require wiring of .032 inches in diameter. Those with hole diameters between .045 and .062 inches and spacing of fewer than 2 inches between each part require wire double-strand wire of .020 inches in diameter.
The single-wire or single-strand safety wire installation method is more applicable in situations with closely spaced fasteners such as electrical systems. The number of fasteners you can securely wire lock depends on how many are within reach of 24 inches of wire. The single-wire method also requires the use of the largest wire that can fit in the fastener's hole.
Additionally, aluminum wire of .031 inch diameter, copper wire of .020 inch diameter, and similar types of wire function as seals on specific forms of equipment. This includes portable fire extinguishers, first-aid kits, emergency valves, and equipment with similar construction.
Check out this video to learn more about how to lock wire bolts and other fasteners:
Quality Safety Wire Products from Malin Co.
Malin Co. is a valuable resource for effective lock wiring products for various industries. Our products can maintain the security and tightness of fasteners in even the most intense applications. Malin Co. lockwire is a positive locking device, which helps maintain safety standards in aerospace, automotive, and many other applications.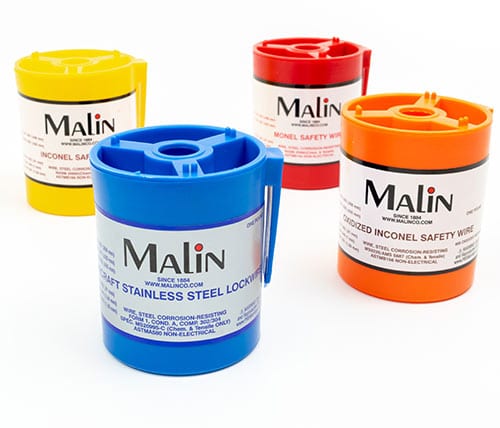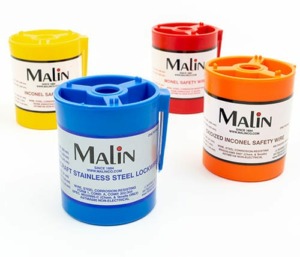 We color code each of our lock wire products with recyclable, polyethylene containers:
Blue canisters contain Malin's famous stainless steel safety wire.
Yellow canisters contain Inconel lock wire.
Orange canisters contain oxidized Inconel safety wire.
Red canisters contain Monel safety wire.
Polyethylene safety wire canisters do not degrade like paper canisters, and Malin lock wire canisters will protect your wire from grease formation and corrosive materials.
In addition, we offer our safety wire products in spools, coils, and bulk purchase options to fulfill each customer's packaging needs.
| | | |
| --- | --- | --- |
| Our Lock Wire Products: | Packaging Options | Available Materials: |
| Stainless Steel Aerospace Safety Wire | Bulk Spools & Coils | Stainless Steel (302, 303, 304, 304L, 316, 316L, 410, 430) |
| Copper & Brass Breakaway Wire | Boxed Coils | Aluminum, Brass, Nickel |
| Inconel Aerospace Lock Wire | Bobbins | Nickel Silver, Nitinol, Phosphorous Bronze |
| Oxidized Inconel Aerospace Safety Wire | Quarter-Pound Handi-Pak Coils | Copper, Chromel Carbon (Black, Galvanized) |
| Monel Aerospace Lockwire | Custom Spools | Inconel, Monel, Titanium |
Malin Co. is a wire manufacturing company with ISO 9001:2015 certification, so you can trust us to meet the quality and performance standards of your project. If you are looking for safety wire in an alloy that is not listed here, we are capable of quoting for other materials. If you are unsure of what materials you are looking for, get in touch with Malin Co. today, and our team can answer any questions you have to ensure you get the best product for the job.