Military Trip Wire | Malin

Like Malin Co., military trip wire has been around for decades. In the military, tripwire has many uses from booby traps to defense tactics. Tripwire is used to detect and/or react to movements. As the name suggests, the wiring would then "trip" or trigger a response to the movement. For today's consumers, tripwire continues to be useful for a number of applications.

Uses for Military Trip Wire
Malin's multi-purpose, high-quality tripwire has countless uses. Military tripwire is a great tool to have at the house, on the ATV, or at your campsite. Because of unparalleled quality, Malin's wiring is used by sportsmen and handymen all around the world. This stainless steel safety wiring is sure to meet all your wiring needs.
Ranging from the average consumer to outdoor enthusiasts, Malin wire is an important addition to any toolbox. Common uses for tripwire include the following:


•Perimeter trip wire alarm
• Setting boundaries
• DIY snares
• Shelter building support
• Securing gear
• And much more!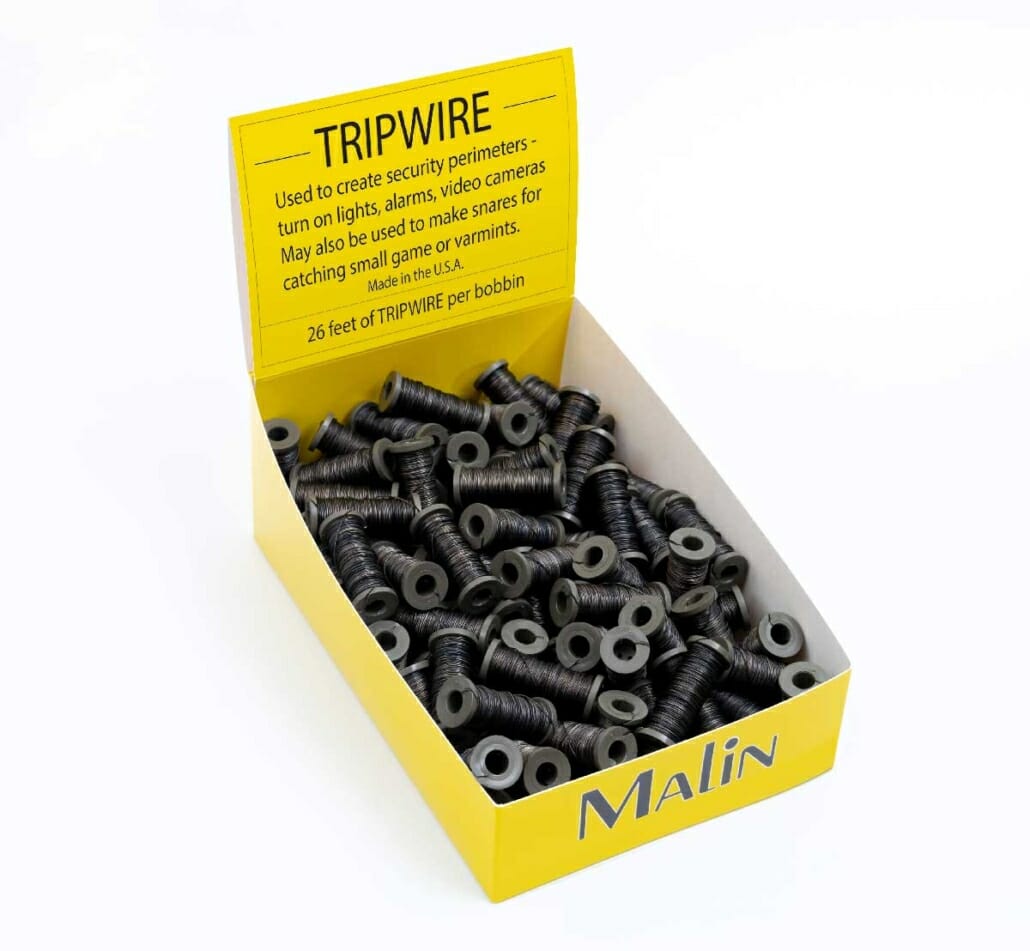 Think about duct tape. Duct tape is versatile, flexible, one might even say: the solution to everything. Malin trap wire is the duct tape of all wire. As a result, it is the tool you want in every kit. Whether it's at the house, the boat, the ATV or the car, it is a reliable, solve-all solution. Because of its endless uses and application, Malin trip wire is sold in bulk. This dependable product can be purchased by the box which includes a 100-count of coils.
Wire the Way You Want It

Established in 1884, Malin has worked diligently to earn a reputation as the leading stainless steel wire producer. Ever since then, Malin has been serving a diverse range of industries. Top products include military trip wire, safety wire, fishing wire, and more.
As the top stainless steel wire producer, Malin offers an array of packaging, alloy, and material options. Find the best wiring for your needs with one of our many wiring lines:
Stainless Steel Wire
Brush Wire
Aircraft Stainless Steel Wire
Black Oil Tempered Wire
Phosphate Coated Wire
Soft Tinned Copper Wire
Ultra Fine Wire
Aluminum Wire
Copper Wire
Safety Lockwire
Galvanized Wire
Tin Coated Wire
Soft Bare Single Strand
Copper Wire
Brass Wire
Electrolysis Wire
Bright Annealed Wire
Nickel Titanium Wire
Annealed Brass Wire
Craft Wire
Most importantly, get wiring the way you want it with Malin's diverse packaging. From straightened and cut wire to canisters, spools, and bulk options, Malin has you covered.