Custom Wire Forms for the Plating Process
Are you looking for a manufacturer of custom wire forms for the plating process? Malin Co. can shape and form wire in a wide range of materials at high volumes with unparalleled efficiency. So, we can give you wire products that exceed your quality standards with timely delivery and competitive pricing.
Custom wire hooks are the ideal solution for hanging parts during plating. In fact, these wire forms will provide the best possible angle for plating and coating. As a result, you can maximize your efficiency and productivity while minimizing racking labor costs.
Here at Malin Co, we can produce custom wire hooks in any material you need. In fact, we can develop wire for hanging parts during the plating process in all grades and tempers of 300 and 400 series stainless steel, nitinol, aluminum, brass, copper, plated steel, nickel, and nickel-based alloys. However, not all materials are applicable in all situations.
Depending on your application, your wire hooks may need to endure corrosive chemicals, extreme temperatures, and many other forms of external stress. So, choosing the right metal materials for your wire hooks is crucial for maintaining optimal performance. If you are unsure of what metals are best for your application, our staff can provide you with expert recommendations based on your unique requirements. Most notably, we will customize our manufacturing process to ensure you receive the exact wire solutions you need.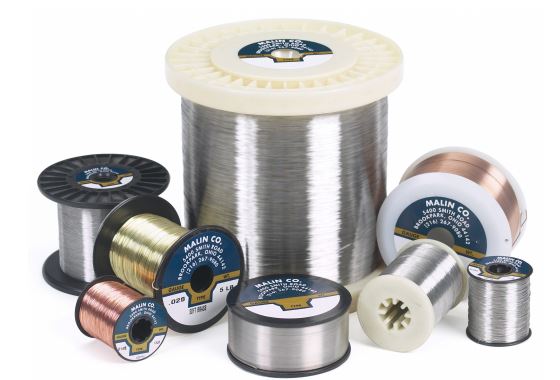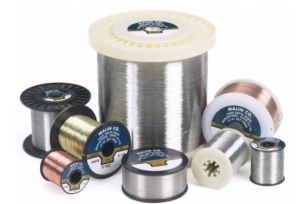 Why Choose Malin Co. for Custom Wire Forms for the Plating Process?
Choosing the best wire manufacturer for your project is of utmost importance. Regardless of what wire products you are looking for, you need to find a manufacturer with reliable industry expertise and proven product quality. When you choose Malin Co., you receive many unique advantages by working with industry-leading experts. So, you can trust us to deliver products that meet your quality and performance standards.
Here are some advantages of choosing Malin Co. as your supplier of wire forms for the plating process:
Certified Engineers and Designers
Our team consists of some of the wire manufacturing industry's best designers and engineers. So, we have the capabilities and qualifications necessary for developing custom wire solutions that meet your application requirements. In fact, we will work with you at every stage of the design and manufacturing process to ensure we fulfill all of your custom wire needs.
Compatibility with Your Industry
Selecting a reliable wire manufacturer also means finding a company that is compatible with your specific industry. Here at Malin Co. we offer exceptional versatility, so we can readily meet the requirements of nearly any industry or application.
If you do not know whether Malin Co. is best for your industry, contact us directly and schedule to visit our manufacturing facility. This will allow you to get a complete understanding of our manufacturing capabilities, design processes, equipment, and communication practices. So, you can confirm that we are the ideal choice for developing your custom wire forms for the plating process.
Responsive Communications Practices
We believe that reliable, responsive communication is a critical aspect of creating high-quality, custom wire solutions. Therefore, we put a focus on accessibility to our technical staff and quality assurance experts. We are prepared to take your phone calls and emails, so we can answer any questions you may have. As a result, you can always stay updated on the progress of your project.
In fact, if you read reviews for competing wire manufacturing companies, you will notice a common theme of low ratings in reference to subpar, unreliable communication. With Malin Co., however, you will always receive responsive, attentive from our friendly staff of industry professionals.

About Malin Co.
Malin Co. has been a leading manufacturer of safety wire, fishing wire, and custom wire forms for many years. In fact, they have been developing wire solutions since 1884. Product quality and customer satisfaction are our top priorities, so you can trust us to create the best wire forms for the plating process on the market. Furthermore, our dedication to quality has earned us certification to  ISO 9001:2015.
We distinguish ourselves from competing wire manufacturing companies by offering products of exceptional quality in a comprehensive selection of materials. Annealed brass wire, black oil tempered wire, soft bare single strand wire, and soft tinned copper wire are just a few of the options you will find with Malin Co.
We also offer superior material testing capabilities with our state-of-the-art X-ray fluorescence (XRF) testing. This allows us to determine material compositions for a wide range of metal alloys with incredible precision. As a result, we can more accurately meet the requirements of your unique industry.
If you are looking for a manufacturer of wire forms for the plating process, safety wire, or any other metal wire products, get in contact with Malin Co. today. With our knowledge and expertise, we can create the ideal wire products for your application while offering quicker lead times, timely delivery, and competitive pricing.